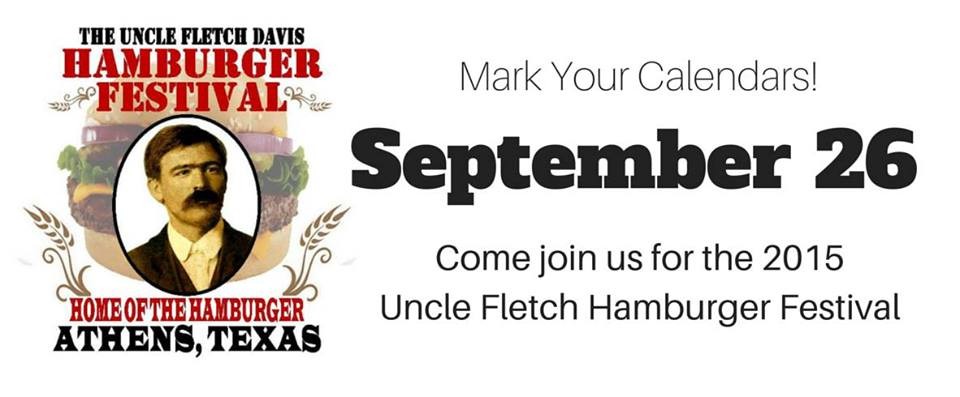 We're only a couple of months out from the 2015 Uncle Fletch Festival. This year is going to be even bigger and better than last year. Here's my top 5 for why this is going to be a great year for Uncle Fletch.
1. Athens is the home of the hamburger. You have to admit that hamburgers are up there as one of the greatest food inventions ever. If you had to list a top 5 favorite food, I would be willing to bet that a significant majority of Americans would have the hamburger right up there at the top. Long live the hamburger and long live the Uncle Fletch Festival.
2. Thank you to McDonalds, Whataburger, Weinstein Law, Keller Williams Weinstein Realty, Athens Screen Printing, Ask Dr. Fran, TVCC, First State Bank, Henderson County Now, KCKL and Virtual Communications for their sponsorship support of the festival. We all know that it takes sponsors to make something big happen and we are lucky to have such wonderful businesses in our community to help make a project like Uncle Fletch a success.
3. Last year we had about 2,000 people in attendance. The biggest complaint was that people couldn't get a hamburger. This year we will have additional hamburger food vendors to make sure everyone gets a hamburger and we will also have food trucks from Dallas serving a few other items to spice things up a bit. Come hungry, I promise you will leave full this year. Based upon the response we have received, my bet is that we have over 3,500 people. That's a pretty good showing for an event at the square. If you are in a business in Athens, get ready for September 26. You're going to have great traffic in your business. If you would like to promote your business at the festival, we have non-food booths available for $50 and we will supply the table. You just come and decorate your space to promote your business. Where else can you pay $50 and have 3,000-plus people to show off your business to?
4. We have added prize money for the winner of this year's UF competition. First place receives $600. Second place is $250 and third is $150. Great money and of course the privilege of saying you are the greatest hamburger cook in the world! Teams are filling up quickly and we are limiting cook teams to 50 – first come, first serve. If you want in, get your application in as soon as you can.
5. TVCC has graciously agreed to move the kickoff time of the football game from 3 p.m. until 5 p.m. What a great day. The hamburger festival during the day the a TVCC football game in the evening at Bruce Field. How awesome for us to parade from downtown to the football game to show our support for our TVCC Cardinals.
Thank you to everyone that has already said they will attend. Please share this event with your FB family. This festival is for Athens, about Athens and helps Henderson County by promoting our wonderful community. Can't wait to see you on September 26.